What you need to know about the red diesel ban…
Time is running out for contractors to prepare for the impending red diesel ban.
Contractors have previously warned that the end to the red diesel rebate will hit an industry still reeling from rising material and labour costs.
With help from Build UK we have tried to break down the key points for contractors
What is Red Diesel?
'Red diesel' is a fuel that is currently used in off-road vehicles and machinery. It is used in a number of industries, most prominently construction and agriculture, where users are entitled to a rebate on the tax or duty paid on the fuel purchased.
Red diesel is the same as regular white diesel but with a red dye and chemical markers added to it to prevent its misuse in road vehicles.
What is changing in April 2022?
The government says it is introducing the law change – via the Finance Bill 2021 – to help meet climate change and air quality policy objectives. Red diesel accounts for production of almost 14m tonnes of
The Government announced in the Budget 2020 that the entitlement to use rebated red diesel or rebated biofuels (e.g. Hydrotreated Vegetable Oil (HVO) would be removed from most sectors, including construction, from 1 April 2022. This means it will be illegal to put red diesel into the tank of a vehicle or machine that is not entitled to use it after this date.
HMRC has published guidance on the changes to use of red diesel from 1 April 2021.
When might traces of red diesel be found in plant and equipment used for construction work?
For a short period of time after the rules change on 1 April 2022, businesses may find that traces of red diesel are still present in the fuel tanks of vehicles or machines on site as the fuel is used up before being replaced with white diesel. How long this will take will depend on the type of vehicle or machine, the size of its fuel tank, its rate of fuel consumption and how frequently it is used.
Businesses that currently use red diesel but will no longer be entitled to after 1 April should plan to run down the fuel in their vehicles and machines and use up existing stocks being held in storage by this date. Businesses will not be expected to flush out all traces of red diesel from storage tanks but should plan to empty and refill them with white diesel before putting fuel into their vehicles or machines after the rules change.
There is also a possibility that traces of red diesel may be found where plant and equipment is used for both entitled and non-entitled purposes (such as agriculture and construction work).
HMRC is clear that tanks must either be flushed to remove all traces of red diesel when switching from entitled to non-entitled use or fuelled with white diesel for all uses. Hire companies should always complete a post-hire inspection when plant and equipment is returned to them which should note what fuel was in the vehicle.
What should a business do if it finds any red diesel in plant and equipment to be used for construction work after 1 April 2022?
Businesses should always check what fuel is in the tank and/or engine before starting operation. If red diesel is found, businesses should not use the plant or equipment until they confirmed whether the red diesel was added before 1 April or after that date. If the red diesel was added after that, they must flush the tank, refill with the correct fuel and evidence should be kept to prove that this was done.
If the plant or equipment was hired, businesses should contact the hire company and inform them that the vehicle or machine contained the wrong fuel for the intended use when hired.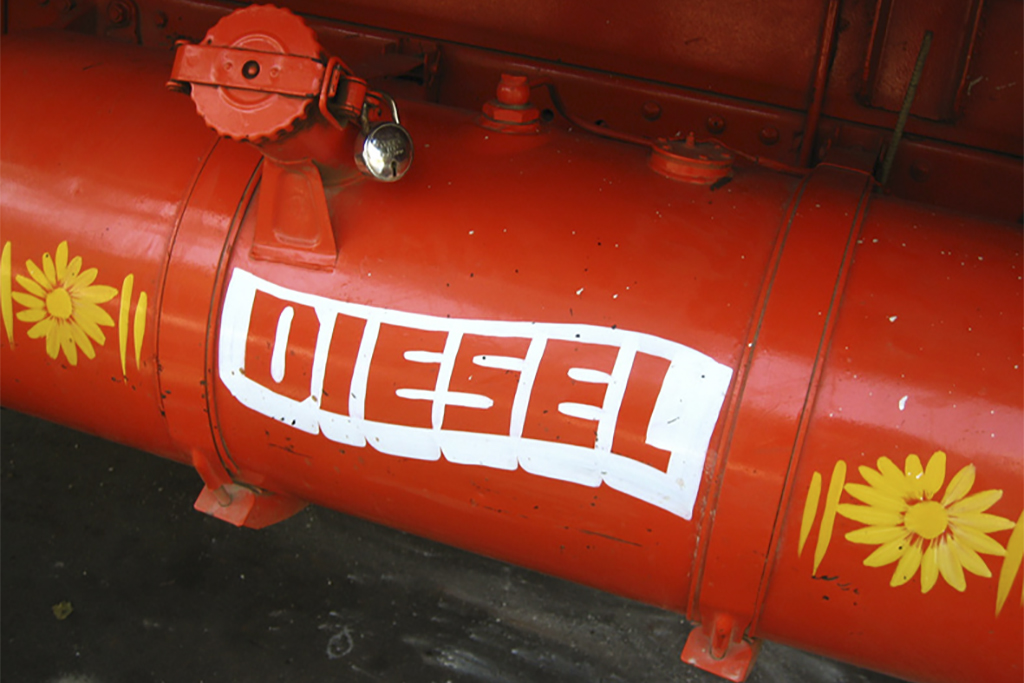 Who is responsible for ensuring that red diesel is no longer used in plant and equipment for construction work?
Hire companies should make their customers aware that the fuel they are permitted to use depends on the use of the vehicle or machine. Hire companies should always ask what the vehicle or machine will be used for and, if it is unclear whether it is for an entitled purpose, then it should be fuelled with white diesel.
Contractors should ensure that the plant and equipment they use on site is always filled with the correct fuel – if diesel, then it must be white diesel.
What action should businesses take now to prepare for this change from 1 April 2022?
1. Identify all plant and equipment you own, hire, lease or use that currently uses red diesel
2. Assess existing stocks of red diesel and develop a plan for running them down
3. Talk to your diesel supplier to make sure you are not over-ordering red diesel
4. Determine a schedule for moving to white diesel, including flushing out tanks
5. Review existing contracts with both clients and suppliers for any potential price implications from the loss of entitlement
6. Discuss with your clients the cost implications of plant and equipment using white diesel from 1 April 2022
What does all this mean for hired plant?
In a nutshell: extra processes. Build UK advises contractors to check what fuel is in the equipment they hire before they turn it on and, if red diesel is found, to establish when it was added. If rebated diesel went into a machine or vehicle illegally, it must be flushed out and replaced with white diesel. Build UK advises giving this responsibility to the hire company, which should itself be doing regular inspections.
Build UK urges contractors to keep items, including fuel receipts and invoices, hire contracts and driver time sheets. The CPA also suggests maintaining records of what type of activities machinery is used for.